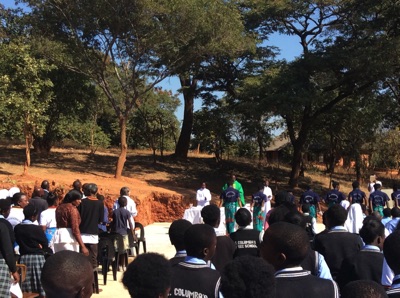 ZamScotEd was given SCIO (Scottish Charitable Incorporated Organisation) status in July 2015 by the Office of the Scottish Charity Regulator (OSCR).
This change of name and status (we were formerly the Scottish Registered Charity the Mthunzi & Lilanda Initiative (M.A.L.I.) reflected our wider work in Zambia, which began in 1999 with a visit by our founder to an AIDS conference in Lusaka. Introduced to a community school for AIDS orphans in Lilanda parish and then to the Mthunzi Children's Programme, which cares for former street children and other vulnerable children, Marian Pallister asked people back home in Argyll, Scotland, to help make a difference to the lives of these youngsters.
By 2007, M.A.L.I. was granted charitable status and concentrated on supporting education in the widest sense. With no secondary school in the area, M.A.L.I. sent Mthunzi project children to boarding schools across Zambia, but visits showed this was not ideal – and so many other children in the Chilanga area to the west of Lusaka were losing out.
Our plan for a secondary school was born.
It's been a tough but amazing journey, travelled with the help of the whole Argyll and the Isles community (and especially St Margaret's parishioners in Lochgilphead), the Allan & Nesta Ferguson Trust, Our Lady of the Assumption and Saint Meddan's in Troon, Ayrshire, the artist Jolomo, Missio Scotland – and of course, the people of Koinonia and the Chilanga district where St Columba's is situated.
Since 2015, we have been in partnership with the Order of Teresian Sisters in Zambia, who run very successful schools in Malawi and Zambia. The first teaching block opened in January 2016 with match funding from Missio Scotland. Funding has been granted by the Spanish organisations Manos Unidas and Africa Directo to build three more classroom blocks, including a science wing.
Now we must complete the science wing, and furnish it and classroom block 4. With your help we can enable this Zambian community achieve the UN's sustainable development goals 1,4 and 5 (through quality education and gender equality these youngsters can eliminate poverty in their community).
How you can donate: